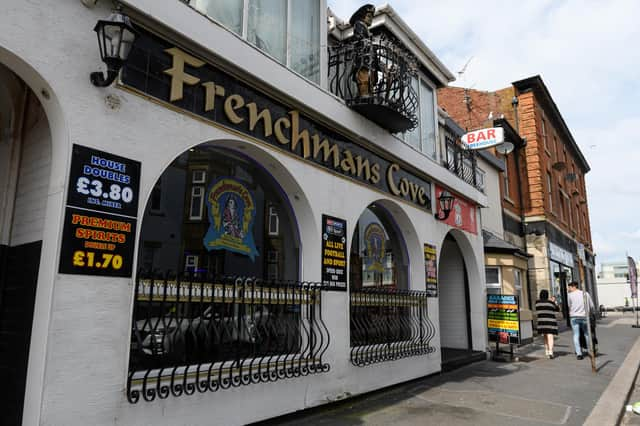 Exterior of The Frenchmans Cove on King Street, Blackpool which is up for sale at a bargain price. Photo: Kelvin Stuttard
We took a look inside the pub, which is located on South King Street in the shadow of the Blackpool Tower, to find out just what the property has to offer.
Frenchmans Cove used to be known as Duckworths tobacconist, and was used as a warehouse for the North Wales-based gift shop. It was turned into a pub nearly 23 years ago.
The owner of Frenchmans Cove, Billy Johnson, who bought and renovated the building in the late 90s, said his decision to put the pub up for sale was due to his retirement at the age of 72. He said: "I bought the building 23 years ago and converted it. Old boys like me might remember it as a tobacco warehouse."
As an avid Liverpool FC supporter, Billy has welcomed countless Liverpool fans to the pub over the years, airing all of the team's Saturday matches.
The open-plan bar was refurbished and extended to include a single-storey indoor area to the rear during the 2021 Covid-19 lockdown, making the property 'well positioned to drive forward again and improve upon historic trading levels'.
Billy said: "The building's got a lot of potential. There's two flats upstairs that can be used as Airbnbs. I've run it for the last few years as a hobby, as I'm a big Liverpool fan, but it's got to the stafe where I'm getting a bit old for it."
The pub is currently managed by Dave Robertson, who is also due to retire, and who once managed the Litten Tree on Queen Street and the Yates Wine Lodge in Talbot Square, which famously burned down on Valentine's Day 2009, resulting in £20m worth of damage.
Billy said: "It will be very hard to walk away. It has been a really enjoyable 23 years. We've had some very, very good times, made some very good friends, and it has been great going in there for every Liverpool game."
Frenchmans Cove is on the market for £275,000 under Fleurets, the UK's leading leisure property specialist. A spokesman for the company said: "It is felt that this site would most likely suit a retail development for an alternative use purchaser, subject to the necessary planning consent and permissions."
The property is not a Listed building, but is located in the Blackpool Town Centre Conservation Area, which means work that can typically be done without planning permission may need to be approved by the council. If you are interested in buying Frenchmans Cove, call Fleurets on 0161 468 3867