The Circus of Horrors is back in Blackpool for Hallowe'en
The Circus of Horrors is Back in Blackpool with a Halloween residency at the Globe Theatre in Pleasure Beach form the 27th to the 31st of October with 2 Spooktacular shows.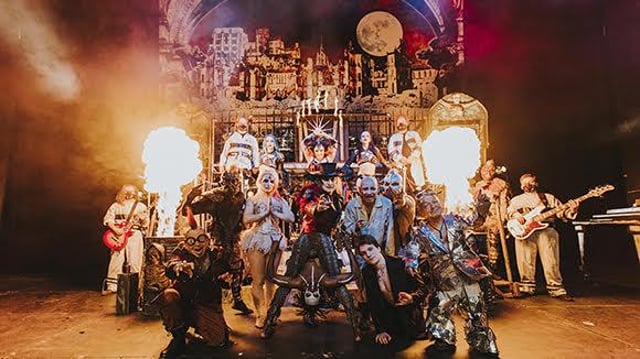 Tickets are on sale now from the Pleasure Beach or Ticketmaster, all links below.
There's the ReVamped and Rocking Evening show on every night at 8pm and the 4pm Addams Family Friendly show suitable for all ages.
The new ReBorn, ReVamped and Rocking show will be a celebration of its amazing history and will include a fangtastic, phantasmaglorious amalgamation of acts, driven by a rock 'n' roll sound scape, a show that will have you sat on the edge of your seat when not falling off it with laughter.
From sword swallowers to hairculean aerialists hanging from their hair whilst suspended above the auditorium, whirlwind jugglers to voodoo acrobats, pickled people, hula hooping divas, breathtaking hand balancing and aerialists to human pin cushions and lots more!
Dr Haze the creator and the Undead ringmaster of The Circus of Horrors who hails from Preston says: "The Circus of Horrors are itching to get back to what they know best, producing the best rip roaring sensational Entertainment for my homeland of Lancashire, its been far too long but the flicker at the end of the tunnel is turning into an inferno andwe are ready."
He added: "The great thing about the Globe in Blackpools Pleasue Beach is that everyone will see the show really close up and the opulent surroundings of the auditorium will create a great atmosphere.We promise people of Lancashire a night they will never forget!'"
The almighty cast that stormed into the finals of Britain's Got Talent is now a West End andWorld Wide Smash. The show will take you on a rock n' roller coaster ride of amazing & Bizarre acts. It is a circus like no other and a show you simply can't afford to miss.
Whether a Rock fan or theatregoer The Circus of Horrors has something for everyone.
Imagine a brilliant rock show combined with amazing, bizarre, dare devil & downright beautiful Circus acts, a stella light show and all performed with a forked tongue firmly in each cheek. If Quentin Tarantino had directed Cirque Du Soleil you would be half way there.
You Can Get FANGtastic Offers with PROMO CODE 'FEAR5'
BLACKPOOL PLEASURE BEACH27TH - 31ST OCT
4PM ADDAMS FAMILY FRIENDLY SHOW