16 famous people who were born, lived or studied in Blackpool and the Fylde coast
Entertainment has always been at the beating heart of Blackpool and the Fylde coast, with the region playing host to, and in some cases becoming home to some of the countries top performers.
Tuesday, 19th May 2020, 1:00 pm
Updated
Tuesday, 19th May 2020, 1:02 pm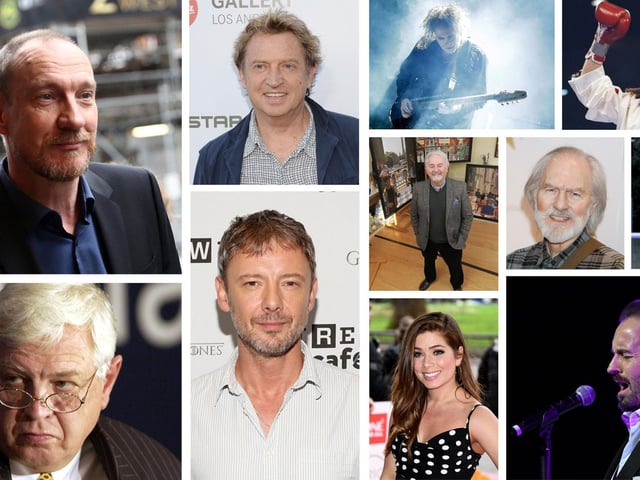 16 famous people who were born, lived or studied in Blackpool and the Fylde coast
Here is our tribute to 16 of the more well-known names linked to the area. This is not a definitive list – just a flavour of what we have had to offer the worlds of music, theatre, broadcasting, sport and beyond.
English tenor and star of musical theatre Alfred Giovanni Roncalli BoeOBE, better known as Alfie Boe, was born in Blackpool and raised in Fleetwood. A long with music and TV success the singer has also starred in numerous Broadway and West End musicals, including, La Bohme andLes Misrables.
Television and radio personality Zoe Louise Ball wasthe first female host of both The Radio 1 Breakfast Show and The Radio 2 Breakfast Show - but did you know she was from Blackpool?
Blackpool born Jenna got her big acting break when she landedthe role ofJasmine ThomasinEmmerdalein 2005. Since then she has gone on to star inBBC's Doctor Who and playedQueen Victoriain ITV's period drama Victoria.
Fleetwood bornJane Couch paved the way for female boxers afterbecame the first officially licensed British female boxer in 1998. Jane went on to winnumerous world titles and was awarded an MBE in 2007.
Born in Blackpool,Jeffrey Hammond is an artist, musician, and former bass guitar player for the progressive rock band Jethro Tull.
Folk rock singer, songwriter and guitarist Roy Harper who is said to have influencedmusic legends such as; Jimmy Page,Robert Plant,Pete Townshend,Kate Bush andPink Floyd was born in Manchester in 1941. When he was six years-old his family moved to St Annes, which he once described as"like a cemetery with bus stops".
One half of legendary comedy duo Little and Large is from the Fylde coast. Syd Little was Born in Blackpool in 1942 but now lives in Fleetwood where he runs The Steamer pub.
Star of stage and screen Jodie Prenger, was born in Blackpool in 1979. Jodie is best known for winning the BBC TV series'I'd Do Anything' in 2008, which gave her the opportunity to playNancyin aWest Endrevival of Oliver.
Blackpool born actress Nikki Sanderson got her big break in ITV soap Coronation Street where she played Candice Stowe for six years. Since then she has gone on to roles in both Heartbeat and Hollyoaks.
Well known TV actor John Simm is best known for playing Sam Tyler in Life on Mars, and The Master in Doctor Who. John, who was born in Leeds,attended Blackpool and The Fylde College in the town during the 90s, where he studied performing arts.
John Cody Fidler-Simpson CBE is well-knownEnglish foreign correspondent and world affairs editor of BBC News, but did you know he was born in Cleveleys?
Singer, songwriter and Cure front manRobert James Smith was born in Blackpool,when he was three years old, his family moved toHorley, Surrey.
Andrew James Somers, known professionally as Andy Summers. The guitarist who was a member of the rock band the Police was born in Poulton-le-Fylde.
David Wheeler known asDavid Thewlis, has starred in an array of films, including,Wonder Woman, Dragonheart, The Boy in the Striped Pyjamas and The Theory of Everything.David, who was born in Blackpool in 1963, is probably best known for his role asRemus Lupin in the Harry Potter saga.
Jim Royle was born in Liverpool...right? My a***!Eric "Ricky" Tomlinson who is best known for his roles as Bobby Grant in Brookside and Jim Royle in The Royle Family was born in Bispham.
Blackpool lad and professional skaterDanWhiston won the first series ofDancing on IcewithactressGaynor Faye and appeared in a further 9seasons. Dan becameassociate creative director of the show in 2019.